Bartender Q&A: Mindy Kucan of Hale Pele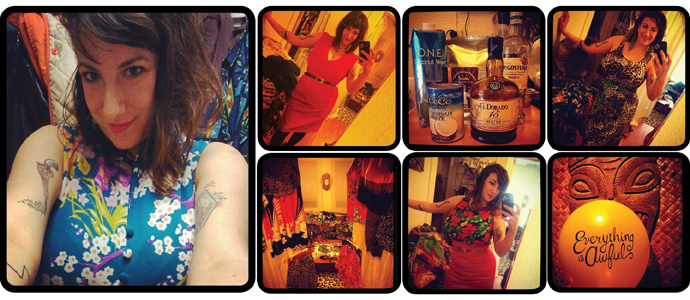 After an inspiring trip to Portland for Portland Cocktail Week, Mindy Kucan of Hale Pele, moved to Bridgetown but not before leaving her mark on the Houston cocktail scene. Not only is she trendsetting in the Tiki drink sphere, she's a social media maven, spreading the "Tiki Tacky" gospel here in Portland.
Drink Portland: How did you first get into bartending?
Mindy Kucan: I started waiting tables and cocktailing at a nightclub in Houston when I was 18. I learned then that I liked the industry and wanted to make drinks shortly after that. My first bartending job was at a place called Melons in East Houston.

DP: What made you move to Portland from Texas where you were named 2010 Best Bartender by Houston Press?
MK: I was killing it in Houston. I visited Portland for Portland Cocktail Week in 2010 and really liked the drink scene. I liked how there was more than one cocktail bar and more than one discipline of making drinks and everyone knew each other and could learn from each other instead of coveting their knowledge. When the opportunity for me to work at Beaker and Flask came up, I jumped on it!

DP: What is your role as lead bartender at Hale Pele? Do you get to create a lot of your own drinks?
MK: My role as lead bartender at Hale Pele was originally about listening to an idea from the owners and figuring out how to execute the bar set up and beverage program. Since we have a system in place now, my role is to train new staff members on our house recipes, how and why we garnish a certain way and the history behind the classics we showcase. I am always creating drinks. The beverage program at Hale Pele is focused on classic tropical recipes from all over the world, so my drinks are not on the menu, but most of my regulars know that they can ask me for anything and I will whip up something tasty.

DP: Even though it might be like asking you to pick a favorite child, what are the ingredients in your favorite Hale Pele drink?
MK: My favorite drink on our menu is the Jungle Bird. It is a simple drink to make yet is very complex in flavor with Blackstrap molasses rum, pineapple and Campari with a touch of lime and sugar to balance it out. The garnish is a pineapple frond and a cinnamon stick (meant to symbolize a parrot sitting on a perch).

DP: How long did it take to perfect your shaker skills?
MK: Oh man! I have been tending bar for almost 12 years, so I have had a little practice at perfecting my shaker technique. Two things you will see when I shake: my shaker tattoo on my right bicep and the Texas shaker flip I learned when I worked at Anvil in Houston.

DP: Do you have a favorite non-Tiki cocktail?
MK: Of course I do! I always love a great Hoffman House style martini with Handyman's Old Tom Gin and Dolin Dry vermouth; 2:1 with 2 dashes of Angostura orange bitters with a lemon twist.
DP: When I first started following you on Instagram, I was blown away by your clothing collection of Tiki-inspired threads. Where do you get a lot of your pieces?
MK: I do have quite the collection of Tiki clothes. I love second hand shopping so I go to Buffalo Exchange, Modo Boutique and Vintage by the Pound. I look for jewelry at antique shops and sometimes I shop at H&M but only for basics. My rule of thumb is to have three pops of the same color or 3 focal points. When I started working at Hale Pele I decided to dress so tiki that it was tacky. It worked to my benefit and helped me create #tikitacky photos that I post to my Instagram, Twitter and Facebook. This tells my guests that I'm working and my old regulars know what I'm up to in Portland.

DP: Does it take you long to decide what to wear?
MK: I don't think it takes me long to decide what to wear. I have three days off a week, sometimes I already know what I'm going to wear the next week or sometimes I let a piece of jewelry or a dress inspire what I'm going to wear or a new piece happens to find me and I want to wear it immediately. So that helps.

DP: You have a lot of Twitter and Instagram followers. Is this something that has been helpful in your career as a bartender?
MK: I used Twitter to help with my personal branding when I was living in Austin and working at Anvil in Houston, and in doing so it has helped me get my name out there in the social media world. I was actually offered the job at Beaker and Flask through Twitter. Since the beginning of 2014, I decided to start posting #tikitacky every day I work to show my friends and old regulars in Houston what I am wearing to work because I know they can't make it to Portland, and it has come with many great compliments, as well as friends asking me to help them style their wardrobes, and two articles! As a bartender, the more people that come see you the more prosperous you will be, so that is a plus.

DP: What excites you the most about the Portland drink scene or bartending in Portland?
MK: What excites me most about tending bar in Portland is that everyone knows everyone, we all visit each other's bars and take care of and learn from each other. I love that we have Imbibe magazine based here, Portland Cocktail Week is one of my favorite events, and that so many distilleries and wineries are so close in proximity and so willing to show off what they are doing that it makes living here a great learning experience. Also, I love meeting new people. The more the merrier.
Follow Mindy on Twitter and Instagram: @DrinkswMindy
Photos arranged by Mary Locke
Tags:
Cocktails
,
Education
,
Spirits
Recent Articles

Feedback
How are we doing? Tell us what you like or don't like and how we can improve. We would love to hear your thoughts!