Mobile Brews: Food Cart Pods That Serve Beer in Portland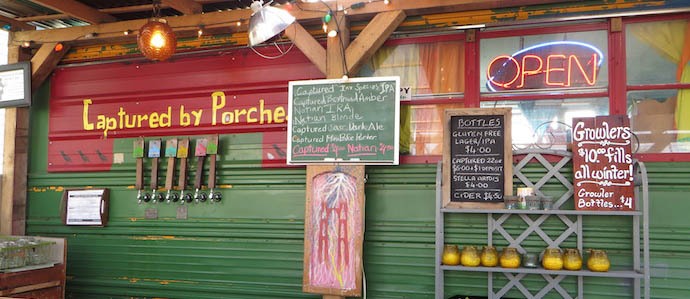 Imagine sitting at a picnic table in front of your favorite food cart with a frosty pint of a crisp Pilsner. About a year ago, this became possible when the OLCC made it legal for food carts to sell beer and wine. The first-ever liquor license in Portland was granted to Cartlandia last spring. The city wasn't happy though; Portland sued the OLCC months after the license was granted under the assumption that the sale of beer in this kind of environment would cause problems. No large scale problems have occured and now there are four food cart pods where you can grab a brew with your food cart fare.
Cartlandia (8145 SE 82nd & Springwater Corridor Bike Trail)
The first beer garden in Oregon is open four days a week: Thursday, 12 - 8 PM and Friday through Sunday 12 -7 PM. There's a big screen T.V. to catch a game and it'll serve up Oregon beer, cider, mimosas, wine and non-alcoholic drinks like Arnold Palmer to go with your lobster roll or Rock House Grill burger.
The food cart pod had already grown out of its beer garden tent before its inception: the planning for a Cartlandia pub/restaurant in the large building on the Harney St. side of the property, started nearly two years ago. The pub will open soon and will serve Oregon beer, wine and mixed drinks in addition to some food items.
Rose City Food Park (NE Sandy Blvd. and NE 52nd Ave.)
Located in the Rose CIty Park neighborhood just up Sandy Blvd. from Hollywood, this food cart pod is 100% compostable and recyclable, and 110% child-friendly. About 13 food cards and Kruger's Farm Market reside here: PDX 671 (flavors and cooking techniques of Guam) Vivis Yummy Rolls, The Bridgetown Bagel Company, GF Chef, Ramy's Lamb Shack, and Bangkok Xpress, among others.
When it comes to beer though, the red barn that you may have seen in the back corner of the lot is no kiddie's playhouse. The Thirty Barn was recently moved to the front of the property for easy access and additional covered seating has been added. The Barn will be serving up beer and wine again starting in April.
Captured by Porches Bus (Kruger's Farm Stand on N. Lombard St. and N. Burr Ave.)
Just a handful of food carts (Chowdah and Che Cafe) accompany Kruger's Farm stand and the Captured by Porches bus in the lot off of Lombard St. in North Portland. The giant green bus has indoor seating and an inviting patio. All of your favorite Captured by Porches brews are served in mason jars. The CbP bus is open whenever the food carts are serving food, as regulated by its permit.
The Hoppy Camper at NE 23rd and Alberta Food Cart Pod
What used to be the Captured by Porches camper will be transformed into The Hoppy Camper (under new ownership) at the food cart pod located in the lot next to Townshend's Tea Company. Fans of The Cheese Table, Garden Monster or Uncle Tsang's will still be able to grab a pint with their meal. (The Sugar Shop cart is also located in this pod.).The camper will be refashioned to serve a variety of beer and cider in both draft and bottles to-go.
Thanks to Brett Burmeister of Food Carts Portland for help on locating food carts for this story.

Tags:
Beer
,
Food
,
Outdoor Seating
,
Wine
Recent Articles

Feedback
How are we doing? Tell us what you like or don't like and how we can improve. We would love to hear your thoughts!