Spring Preview: Highlights in Future Drinking Adventures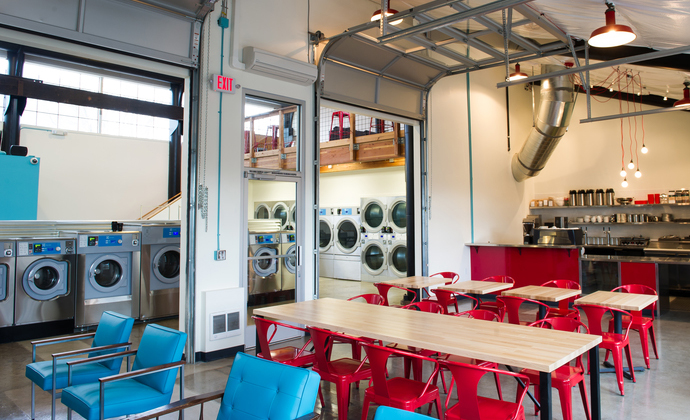 Since "Rain" is one of the only identifiable seasons in Portland, look for the first sign of spring when the elusive male bunhead yogi sprints into traffic with his yoga matt tucked under his arm while wearing cargo shorts instead of long linen pants. The yogi's inner barometers powered by dinkel wheat never lie. The rain may still be misting down from the dark skies above — and the landscape may not differ remarkably from one month to the next — but we assure you there is plenty to look forward to this spring (besides the arrival of summer). Read onward for new beer releases, events, openings and cocktails on the horizon.

Rose Hip Gold by Portland Brewing
This seasonal Belgian-style ale with added rose hips by Portland Brewing is less floral that you would expect. It's not overly sweet and syrupy, considering they've added rose to the mix. In fact, even the nose doesn't leave a waft of flowers behind, rather it's malty and even has the presence of yeast. This spring ale makes the perfect sipper right before the rest of the fruit infused '14 seasonal class gets back from spring break. Available until April 1.

2nd Annual Portland Farmhouse and Wild Ale Festival at Saraveza, March 29-30
It's a celebration of French and Belgian inspired Farmhouse and wild ales. While Farmhouse ales are drinkable all year long, the best time to revel in higher carbonation, spices and fruit is in the crisp springtime air. As for wild ales, they are just that: wild. The flavors can be all over the place with funky and complex profiles that even include sour. Breweries from the area will bring more than 30 beers and this is your chance to sample beers that normally carry a hefty price tag. While lager and dark beer festival might boost your beer nerdery, this festival will broaden your taste buds and ignite a new passion for these reproductions of old world classics. (1004 N Killingsworth St.; 503-206-4252)

Festival entry is $25 and includes commemorative glassware and 10 drink tickets.

Spin Laundry Lounge
There aren't many activities we're not allowed to do while drinking a beer here in Portland. We can buy records, play video games from our childhood at the arcade, watch a movie in a theater, bet on ponies or watch a "lady entertainer" undress. With all these opportunities to imbibe outside of ordinary bar situations, it's surprising that there aren't more excuses to have a cold one while doing chores.

The new Spin Laundry Lounge (pictured above) opened on March 10 in North Portland in the Mississippi District, is like a Duds 'n Suds that went to finishing school. Now finally we can drink beer while performing our duties as hygiene-aware adults. The Lounge focuses on local wines, beer, and coffee (Fog Valley) Oh, and of course, it's eco-friendly and sustainable too. (750 N Fremont St.)

Growth in the Bindery Building
When we first noticed that Teen Challenge had moved out of its location at 31st and Sandy Blvd., where the Bindery now resides, it was a somber day. Where else in Portland would we be able to get a Montgomery Ward television for $1.50 or have the overly nice gentlemen that worked there help us carry out our newly purchased $5 dresser? It has been difficult for us to accept, but we really do want the best for the Bindery Building and we're looking forward to growth with this project.

If you haven't heard of it, The Bindery is an "eclectic urban space" that brings together community of proprietors, entrepreneurs, artisans, winemakers, and creatives. In the basement of the Bindery is Bow and Arrow, the nation's first urban underground winery and tasting room.

As of right now, only two of the spaces in the Bindery are unleased but it's difficult to say if any of the other spaces that have been leased will be occupied by other winemakers, brewers and distillers. We're definitely in support of drink purveyors edging in on this space. (3115 NE Sandy Blvd.; 503-740-4888)

The Opening of Rolling River Spirits
Rolling River Spirits was founded in 2011 and the family behind it has been working since then to open up shop near Distillery Row. Rolling River would be another welcomed addition to the influx of distillers putting Portland on the map.

According to the company's website, they are "family-owned and operated business producing handcrafted organic spirits from still to bottle." The product line includes gin, vodka and whiskey, which is currently aging. The family even uses hand-built stills, so we won't squawk too much about how we wish we could be hanging out in their tasting room. The website says the opening date will be announced soon so check back if you're as excited as we are about another distillery in town. (1215 SE 8th Ave. Suite H; 503- 236-3912)

Baerlic Brewing
Critics in the craft beer world have said the craft beer market is oversaturated but that's not stopping Portland. Late last year, we heard rumors of a handful of breweries opening, and rumors they weren't. Baerlic Brewing is a 10-barrel brewery opening amid a market swirling with options. The location is slated to be near Ladd's Addition and SE Division at 2235 SE 11th Avenue. When a brewery can still set its roots in inner Portland, the crowds of craft beer drinkers are surely not going to care about a market full of opportunity. (2235 SE 11th Ave.)

Spring Cocktails
No more tepid, light brown cocktails of winter, here come the fruits, teas, bubbles, and splashes of color. Michelle Ruocco of The Bent Brick gave us this recipe for one of her springtime cocktails called Absinthe Minded. FYI, The Bent Brick has happy hour all night on Sundays.

Absinthe Minded
1/2 lime cut into cubes
1 oz rhubarb simple syrup
1 oz Bacardi 8 yr
1/2 oz prichards crystal rum
1/4 oz pacifique absinthe
5-7 mint leaves
Several pomegranate seeds

A shrub is a tart syrup made from fruit, sugar and vinegar and The Bent Brick has three new refreshing shrub cocktails available in Gooseberry with rosemary and black pepper, Beet with orange and tobacco,and Pumpkin with pear and pink pepper.

This Spring, Ned Ludd located on NE MLK Blvd., is focusing on amaros. "They are the perfect springtime beverage, for the cooler days," barkeep Jemerey Wilson told DrinkPortland. "You can mix your choice of amaro with a little soda water and a citrus twist, creating a refreshing, low alcohol sipper."
The restaurant's bar program is collecting and bringing in different amari as they find them, such as the Braulio, developed in 1875 by a botanist named Dr. Francesco Peloni, in the Lombardy region of Italy. This Spring, try the Negroni Variation made from Beefeater gin, Aperol, Punt e Mes and Dolin (3925 NE MLK Jr. Blvd.; 503-288-6900).

Photo: Spin Laundry Lounge
Tags:
Beer
,
Festival
Recent Articles

Feedback
How are we doing? Tell us what you like or don't like and how we can improve. We would love to hear your thoughts!