Where to Celebrate St. Patrick's Day in Portland (2014 Edition)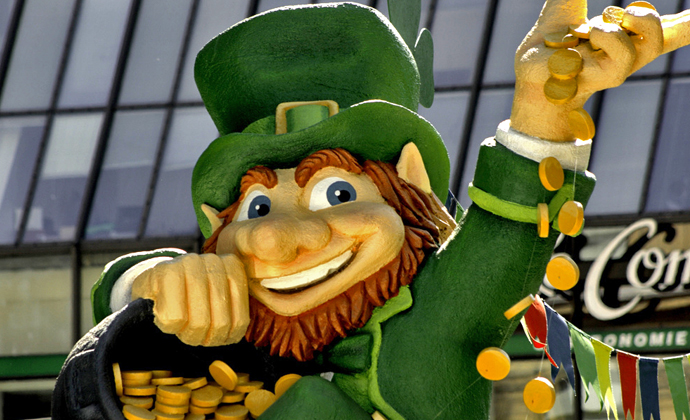 Whether you are one-tenth Irish or a full blown expat living in Portland, there's a St. Patrick's Day themed event for you.
Kell's 23rd Annual St. Patrick's Day Festival (112 SW 2nd Ave.; 503-503-227-4057)
March 14-17
Much like the sporty men in backwards hats (Is "bro" overused?), Kell's knows how to turn one occasion into a party that lasts for many days.
Stretching from March 14-17, Kell's festival takes place at four different venues — kind of like one of those college parties that moves from one apartment to the next. It won't be all beer chugging millennials though, there's usually expats or second generation Irish partaking in events at Kells, its festival tent in the back parking lot, at the new Kells Brew Pub (210 NW 21st Ave.) and in that location's festival tent.

There's seriously so much going on at Kell's that you won't to miss: Shana Morrison, daughter of Van Morrison performing, a chance to win a trip Guinness Storehouse in Dublin and a boxing event with Golden Glove boxers from Ireland, and so much more. This isn't your usual "cultural" celebration in the parking lot of a church. This is the Holy Grail of festivals (I'm telling you, just like Jay Z featuring Justin Timberlake).

Paddy's Bar and Grill St. Patrick's Day Festival (65 SW Yamhill St.; 503-224-5626)
March 14-17

On Monday March 17, the pub and the tent will open at 11 AM, and the bar is saying they will be "extremely busy on St. Pat's proper." People take off work for St. Patrick's day, you guys. Last year, Paddy's served more than 500 pounds of corned beef and cabbage to lucky folks not sitting in a cubicle at a marketing agency. There's a Saturday Night Blues event on March 15, and on Sunday, March 16 shit is getting intense. The Shamrock Run ends right outside the pub's door, meaning hundreds of sweaty, thirsty runners will fill the bar, and then pound some beef.

St. Patrick's Day at McMenamins Kennedy School (5736 NE 33rd Ave.; 503-249-3983)
March 17

If you're looking to get your fix of Irish tunes, then head to Kennedy School any time between noon and 9 PM. Live performers will include The Twangshifters, River City Pipe Band, Kathryn Claire, Irish Family Hooley with the Murray Irish Dancers. Irish stouts, coffee, and food with Irish origins will be served.

St. Patrick's Day Weekend at EastBurn (1800 E. Burnside St.; 503-236-2876)
March 14-17

This will be the 6th year that EastBurn will celebrate green, white, and orange. Corned beef and beef colcannon (cabbage and potatoes) go favorably with stouts, and EastBurn will have plenty of both on hand. It wouldn't be a celebration of Irish lads without some LIVE! music. Don't worry if it has been years since you've been to a concert, get ready to sway those hips to lyrics about being wasted! Live music on Friday, March 14 will be performed by Whiskey's Lament (Irish punk rock!), the Israelites (upright bass!), and DJ Kenny (synth pop and classic underground new wave music) on Saturday, March 15. Whiskey's Lament will be back on Monday St. Patrick's Day to round the celebration — that is if you can make it to Monday.
Photo: Flickr user jpmpinmontreal
Tags:
Beer
,
Festival
Recent Articles

Feedback
How are we doing? Tell us what you like or don't like and how we can improve. We would love to hear your thoughts!