Take a Much-Needed Vacation At These 7 Portland Bars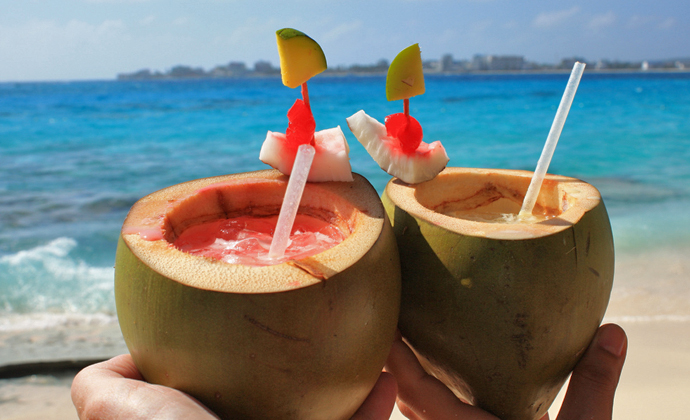 If you can't stand another reference to an episode of "Portlandia" and need to jump ship on a vacation but don't have the funds, check out these Portland bars instead. These lounges and watering holes, with their exotic drinks and ambient lighting, teleport you as far from Bridgetown as you need to be for at least an hour. Or two.
For some, the North Interstate/Overlook neighborhood location of Alibi is a trip in itself. Once inside, you'll be overwhelmed with Tiki decor and bright colors (in a good way) with just enough stimulation to forget all about Portland's gray skies. Once the sun goes down and especially come weekend, Alibi is the place to be for karaoke: there's over 30,000 songs to choose from and over 200 laser disc music videos from the 1980s. The food is cheap too. The Luau Pork sandwich will only set you back $7.
Trader Vic's (1203 NW Glisan St.; 503-467-2277)
It was back in 1944 when "Trader" Vic Bergeron claimed the title as the man who invented the Mai Tai (the ® coming soon after). The Pearl District Trader Vic's® doesn't necessarily exude originality, being that it's one of many franchise locations around the world. But hey, with snow becoming "a thing" in Portland, Trader Vic's definitely oozes with fabricated sun beams, Polynesian kitsch, thatch and Tiki-style carvings.
Light Bar (1401 SE Morrison St.; 971-279-2169)
That bright ball in the sky that burns the delicate skin of many Portlanders once it finally flashes its rays for one week in August: The Sun. Feeling like you need some of that? Lacking Vitamin D but don't want to fry up your skin in a tanning salon? Head to Light Bar. Post up in a booth draped with white canopies and light-therapy lights. Changing lights cast cool blues, pink, and red light on high vaulted ceilings. Order a Moscow Mule, sit back and imagine a city where the sun shines.
Hale Pale (2733 NE Broadway St.; 503-662-8454)
Like an ancient Tiki carving, Hale Pale has history too: a transformation from the old Thatch Tiki bar to Hale Pale under the watchful eye of Blair Reynolds (known for his line of cocktail syrups, and now Hale Pale) who kept the Tiki flair in the NE Broadway neighborhood. Ever noticed that the letters above the overhang read "That Tiki Bar?" The dark, yet inviting Tiki lounge's fog and timed "thunderstorms" may be reminiscent of a Rainforest Cafe but we assure you, the cocktails and the atmosphere otherwise are anything but franchise-esque.
Florida Room (435 N. Killingsworth St.; 503-287-5658)
Oh, Florida. You make it so easy: lions on the loose, naked men causing disturbances, sinkholes, and the list goes on for more punch lines. With all of the batshit craziness that happens in the state of Florida, the Florida Room can be your own little Florida in Portland. We've seen pukers before 4 PM, Old German towers that rival a frat party's best attempt, dog fights, contraband cans of Sparks, and funny business in the photobooth. All right so it's not so bad, but the crazier Florida gets the more Florida Room's patrons appear to be following suit. A vacation to Florida is waiting for you on Killingsworth Street.
Ambassador Restaurant and Lounge (4744 NE Sandy Blvd.; 503-280-0330)
This Hollywood neighborhood karaoke lounge and chinese restaurant will transport you to the outskirts of Los Angeles to the city of Rosemead, CA. There's bound to be a well-heeled older fellow with a cowboy hat, singing Johnny Cash to his mistress. Oddly sterile lighting mixes with neon club lighting around these parts. There's flat screen monitors under glass in the middle of each table, presumably for song lyrics to appear. Don't ask the server about them though, she doesn't know why they're there. Karaoke is taken seriously here. No slips of paper for song requests, instead you'll use a computer to find virtually any song you could ever desire. Cover Fridays and Saturdays.
Driftwood Room at Hotel DeLuxe (729 SW 15th Ave.; 503-222-2171)
Fancy cocktail hounds in the know are well acquainted with the Driftwood Room located inside the swanky Hotel DeLuxe near Jeld-Wen Field. In most other hotel bars there may only be a lone businessman named Thad but here you're more likely to see Portlanders (as well as guests) flocking to the vanguard of the Portland craft cocktail scene. There's an air of time-honored drinking, which makes the space more accessible than pompous. The interior really does look like a scene from a movie, which means you can be the star of your very own inebriated flick called "Springtime in Paris."
Photo: Flickr user flowizm

Tags:
Beer
,
Cocktails
,
Spirits
,
Wine
Recent Articles

Feedback
How are we doing? Tell us what you like or don't like and how we can improve. We would love to hear your thoughts!