5 Bars Redefining Pub Grub Standards in Portland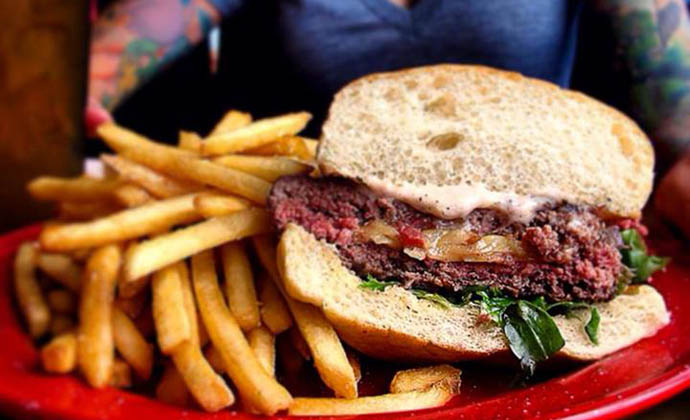 If you've ever asked yourself, "Is this a bar or a restaurant?" you might be in Portland, where OLCC laws govern that bars must serve food in order to legally serve alcohol. Some places get by with offering Banquet frozen meals for $10 while others have embraced the ordinance. Countless bars in Portland have stepped up their kitchen game, often blurring the distinction between restaurant and bar. Here are a few places we go for both dinner and imbibing where the grub is just as irresistible as the cocktails.
The Bye and Bye (1011 NE Alberta St.; 503-281-0537)
After spending some time in Portland, vegan bars start to blend into the terrain and you forget about agendas and trends and lack of meat. The drinks are served in mason jars and there's ubiquitous beards and black framed glasses, and then just like that you stop caring about everything around you (including the friends you just met there) and dig into a Samurai Bowl (nutritional yeast breaded tofu, carrot-cabbage slaw, brown rice, and miso chile sauce, topped with roasted sesame seeds) or mow down the Weeping Tiger Sandwich (tofu cutlets, lettuce, tomato, onion, avocado, jalapeño, Sriracha and miso mayo on Grand Central bread). When we're feeling guilty about our less-than-nutritional-intake, we get the side of Brussels Sprouts.

Victory Bar (3652 SE Division St.; 503-236-8755)
It has "bar" in the name, so it must be a bar, right? But the food! Victory Bar, located in the Richmond neighborhood, is one of those Portland institutions that transform the way we think about bar food. From Spätzle to the venison burger to the deviled egg salad, the food is rich and comforting in ways that other bar food doesn't come close. Bonus points for a menu item called "Freedom Fries" and propaganda decor inspired by the book "Nineteen Eighty-Four" by George Orwell.
Knock Back (2315 NE Alberta St.; 503-284-4090)
Fine cheeses, salami, and a sazerac rarely mean a white table cloth and a reservation in Portland. It's more likely that this candle (in blue, yellow or red) will sit on your table as you order the shaved Brussels sprouts salad from your server in a Red Fang T-shirt. We recommend the chicken pot pie or Pierre's cheese plate (cabra al vino, idaizabal, Crémeux de Bourgogne). Don't miss the cocktail list with appearances from Chartreuse, champagne and Fernet.
White Owl Social Club (1305 SE 8th Ave.; 503-236-9672)
Signature and hyper-local cocktails like the New Deal Mule (New Deal Vodka, New Deal Ginger Liqueur, fresh lime juice and Cock 'n Bull Ginger Beer) pair up swimmingly with vegan friendly fare such as Hatch Chile Taco Mac or the Fried Moonbrine Pickle Fritters. For a real score though, check out the specials board to the left of the bar next to the photo booth. It's food "for those with fussy tastes." (Their words, not ours) Wait, are they saying vegans are fussy?
Expatriate (5424 NE 30th Ave.; 503-805-3750)
Kyle Linden Webber (St. Jack) and Naomi Pomeroy's bar has gotten its fair share of media attention but it still seems as though Portlanders aren't ripping the door of the hinges in their usual hot spot dining frenzy. We've been watching as the corner of NE Killingsworth and 30th Avenue gets hipper by the day, so we imagine it won't be long until Expatriate becomes inaccessible. Get there now for lowbrow eats like Chinese sausage corn dogs and the James Beard onion and butter sandwich, which accompany thoughtful cocktails such as the Queen Elizabeth (Noily Prat vermouth, fresh lime, Benedictine).
Photo: White Owl Social Club
Tags:
Beer
,
Cocktails
,
Food
,
Spirits
,
Wine
Recent Articles

Feedback
How are we doing? Tell us what you like or don't like and how we can improve. We would love to hear your thoughts!