Drink to Your Health in 2014 with Genki-Su Drinking Vinegar
and try our Shiso Rager cocktail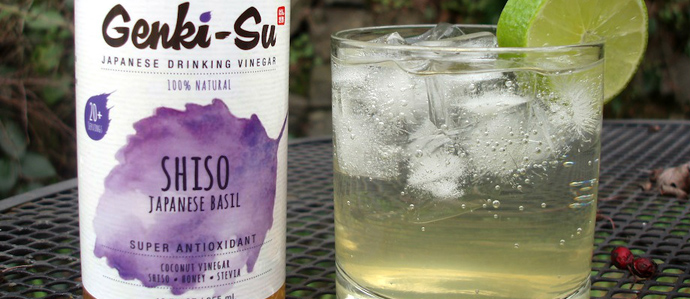 In August, we shared our favorite low calorie drinks. This time around we're still aiming for a good buzz but with more beneficial substances. Jump on the acetic acid wagon with us and try Genki-Su drinking vinegar. These crave-worthy vinegars have been on our radar since Genki-Su first launched a Kickstarter campaign.
Drinking vinegar has been around the block in Japan and other Asian countries, but only seemingly gained popularity here in Portland after 2005 when Andy Ricker introduced Som Drinking Vinegar. While Pok Pok won't make any claims for the health benefits — healthful claims have been made since the elixir's creation — including lower cholesterol, increased energy, healthy immune system, better digestion and even aiding in weight loss.
Genki-Su was created by two local women, Takako Shinjo and Judy Tan, from an old family recipe. One hundred percent natural and naturally sweetened, it's a beneficially delicious addition to spirits.
Available in 12 fluid ounce bottles (12 servings) for $13.99 - $16.99, the vinegar is highly concentrated and needs to be cut with juice, soda water — or in our case — booze.
Recipes available at GenkiSu.com suggest one part vodka to one part Genki-Su but we see endless possibilities when it comes to adding this super drink to booze. Other drink recipes from Genki-Su suggest 8 parts white Belgian beer to 1 part Genki-Su and 5 parts champagne to 1 part Genki-Su.
Also try our cocktail, the Shiso Rager. This cocktail packs it when it comes to natural energy:
Drink Portland Shiso Rager
Put a generous amount of ice in low ball cocktail glass.
Add 1 oz. green tea-infused vodka and 1 oz. Shiso Genki-Su.
Add soda water to top off glass.
Garnish with lime.
Genki-Su can be purchased at these Portland retailers.
Do you have any drinking vinegar cocktail recipes you'd like to share? Tweet them to us at @drink_portland!
Tags:
Cocktails
,
Education
Recent Articles

Feedback
How are we doing? Tell us what you like or don't like and how we can improve. We would love to hear your thoughts!