5 Oregon-Made Sparkling Wines for the Holidays and All Year Long
Plus two wine bars for seeking out more bubbly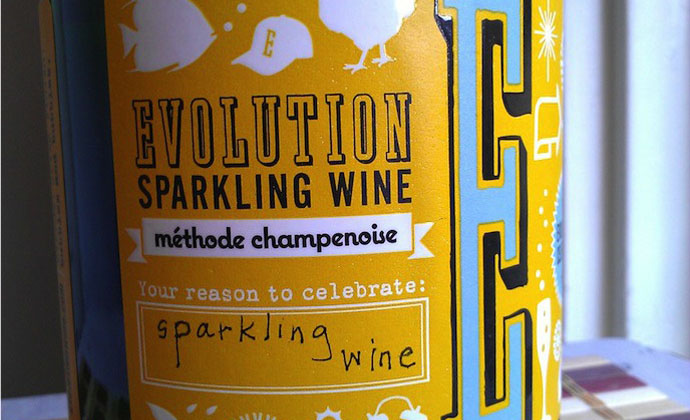 Bubbly, champagne, brut, a headache — whatever it's been called, sparkling wine doesn't have the best reputation in the U.S., due in part to (inadequately labeled) André and Cook's Champagne.
Unless it's New Year's Eve, offering a friend a flute of "champagne" of this caliber usually results in The Puke Face or the "Thanks but no, that stuff gives me the worst headaches," comment. But sparkling wine — not sugar-laden, bottom-of-the-barrel bubbly labeled as champagne — can be an accompaniment all year long, especially with so many wineries and vineyards in Oregon making exceptional brut.
Sometimes you drink sparkling wine while standing in the kitchen of the restaurant of a five-star luxury hotel, staring down thousands of dollars worth of dry-aging steak (true story) but more often that not, sparkling wine is reserved for the holidays. Here are our favorite sparkling wines for the holidays and 365 days out of the year, which we're sure you'll find too.
Evolution Sparkling Wine by Sokol Blosser Winery ($20)
Do wine companies get more hip than this? Not only is the Evolution line by Sokol Blosser Winery hip to the bone, we couldn't agree more with the company's any-occasion-is-a-good-occasion ideology. This one's dry with hints of citrus and a ton of bubbles. As the back of the bottle states, "It is written nowhere that sparkling wine is only for special occasions," and we couldn't agree more.
Brut Methode Champenoise by Capitello Wines ($28)
Ray Walsh of Capitello Wines may have roots in New Zealand but it is here in Oregon, where he displays his knowledge of Oregon bounty and winemaking. Apples, pears and huckleberry pop in this fizzy brut. If you're in the area, don't miss a visit to the tasting room located in Eugene.
2010 Vintage Brut by Argyle Winery ($27)
Tasting notes that include lemon peel, strawberry pith, and ciabatta dough make this selection has solid as they come. Check out Argyle's celebration packs starting at $121, each pack includes a bonus bottle. Argyle often has complimentary shipping for online orders at certain times throughout the year.
2009 Mineral Springs Brut Rosé by Soter Vineyards ($65)
Switch it up double-time and go with a Brut Rosé. The 2009 Mineral Springs Brut Rosé is bursting with strawberry and cherry and has just the right amount of fizz.
Nonvintage Discovery Cuvée by Domaine Meriwether ($22)
Domaine Meriwether is located in Veneta, Oregon, about two hours south of Portland. It's NV Discovery Cuvée is a steal for sophistication and price. A Pinot Noir (60%) and Chardonnay(40%) blend make it versatile. After bottling, this brut undergoes a minimum of three years on the yeast. You won't want to save this one for special toasts, and for $22 a bottle, you won't need to.
Excited about brut now? Sample bubbly from all over the world at these two fizz-centric wine bars.
Ambonnay
Portland's first and only establishment to drink champagne and sparkling wine exclusively. In addition to Blanc Des Blancs (100% Chardonnay) Blanc des Noir (Pinot Noir and Pinot Meunier), Rosé, and more, there are bottles available from winier that are based in the village of Ambonnay (107 SE Washington St.; 503-575-4861).
Pix Patisserie
Leaf through the dictionary-sized wine menu for a sparkling wine in this unpompous patisserie. There's more than 2,000 bottles in its cellar, many of which are of the sparkling variety. Under the same roof (with a giant bull perched on top) you'll also find French desserts and Bar Vivant, an authentic tapas bar with snacks priced from $1-5 (2225 E Burnside St.; 971-271-7166).
Tags:
Cocktails
,
Holiday
,
Wine
Recent Articles

Feedback
How are we doing? Tell us what you like or don't like and how we can improve. We would love to hear your thoughts!