10 Bars in Portland Open on Thanksgiving
Our favorite bars to thankfully drink at on November 28th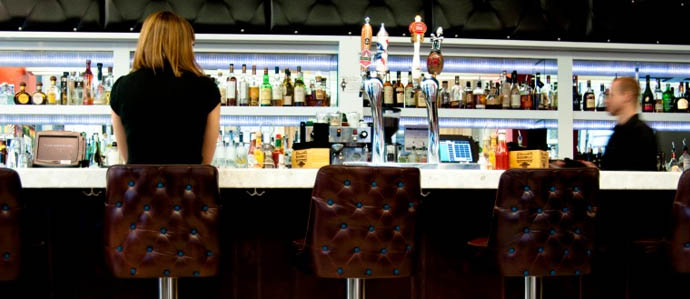 Here in Transplant City, it really isn't that difficult to find a watering hole open during the holidays. So, rather than giving you a massive Google-sized list of all of the bars open on Thanksgiving, here are our favorite bars to drink at on the fourth Thursday in November.
My Father's Place:
My Father's Place will have "ham and yams" and a turkey dinner in its usual greasy spoon fashion. If Thanksgiving spent in this bar is anything like New Year's Day, expect to wait a long while for your food. It's about the journey, not the destination though, so settle in with a squirt and vodka, and give thanks for the MFP staff on this day
(523 SE Grand Ave.; 503-235-5494).
The Original:
The Dinerat's five-course Turkey Day TV Dinner (served on a nostalgic TV tray) is $27 and served from 2-7 PM, just in case you're waiting around for Friendsgiving or in need of more old school choices. Check out the Original's fall cocktail line-up too
(300 SW 6th Ave.; 503-546-2666).
Chopsticks Express II:
The beloved karaoke bar is open at 5 PM, ready to serve orange chicken to angsty karaoke goers and "A Christmas Story" enthusiasts. Does anyone know if Chopsticks has "Baby, Baby Bitch" by Ween?
(2651 E. Burnside St.; 503-234-6171)
Radio Room:
Maybe you know you will spend Thanksgiving with your family who are champions of TMI and you'll need a spot to stew over a (craft) beer not available in your hometown. Radio Room opens at 5 PM, and if you're feeling the holiday love, donate to Meals on Wheels with the help of your server or from your iPhone while you're waiting for more liquid calories.
(1101 NE Alberta St.; 503-287-2346).
Cheerful Tortoise:
This mega-flat-screen-museum and bar near Portland State University is not only open; Cheerful Tortoise serves a free turkey dinner (and a slice of pie) with the purchase of a beverage
(1939 SW 6th Ave.; 503-224-3377).
Star Bar:
The Star Bar is open on Thanksgiving and DJ Turkey Jerky will be posted up with tunes. Work off some of that pie, just don't toss Grandma's stuffing. It's going to be another year until it's socially acceptable to eat this much food
(639 SE Morrison St.; 503-232-5553).
Sandy Hut:
The Hut is open 365 days a year with Jello shots just in case you missed out on that gelatin cornucopia at the kiddie table. You've seen Sandy Hut, it's that bar on Sandy Blvd. with the mural of cartoon characters on the side, undoubtedly depicting the regulars and employees
(1430 Northeast Sandy Blvd; 503-235 7972).
Rialto Poolroom:
When you don't care what holiday…or even what day it is for that matter, head to Rialto as early as 11 AM for a killer Spanish coffee, some pool, and a televised sports game
(529 SW 4th Ave.; 503-228-7605).
Wildwood Restaurant and Bar:
Call ahead to Wildwood for reservations if gutting a turkey just isn't your thing but you still seek a traditional family Thanksgiving. In addition to the regular menu, Wildwood will serve a mesquite turkey dinner, mashed potatoes, gravy stuffing, and cranberry sauce. The full bar is open for your Thursday drinking needs. 12-7 PM
(1221 NW 21st Ave.; 503-248-9663).
Photo: Courtesy of The Original
Tags:
Holiday
Recent Articles

Feedback
How are we doing? Tell us what you like or don't like and how we can improve. We would love to hear your thoughts!