Five Spots in Portland to Drink and Bowl
Spirits, Meet Splits.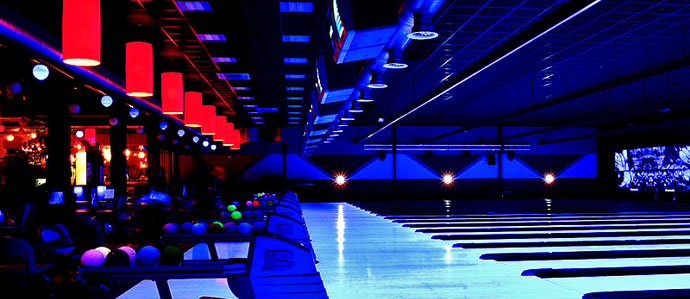 Though drinking and bowling have long gone hand in hand – and plenty of local alleys offer the laser lights and PBR-pitcher combo – the Rose City manages to bring the popular-among-chubby-uncles pastime into the mainstream with ironic and modern twists. Think metal bowling league with teams named Pin After Pin or For Whom the Ball Tolls, and bowling alleys serving cast iron lamb burgers topped with Tillamook Cheddar.
Grand Central Bowling: One of Portland's first adult playgrounds, Grand Central Bowling attempts to mar your perfect 300 with a long list of cocktails, including a Ginger Lemon Drop Martini and Pear Cranberry Cooler with Aviation Gin. Things get funky on Sundays for Soul Bowl when the lights dim, classic soul blasts overhead and 1960s and '70s B movies play on the big screens (839 SE Morrison Street; 503-236-2695)
Hollywood Bowl Bowling Center and Arcade: The unintentionally retro Hollywood Bowl has the cosmic bowling and the birthday parties, but they also have a small in-house bar called Club Hollywood. Pop in before 6 p.m. on weekdays for craft beer pitchers ringing in for less than $12. Switch your drink from glass to plastic before heading out to the lanes. (4030 NE Halsey Street; 503-288-9237)
Interstate Lanes: Head to Interstate Lanes on Tuesday and Sunday mornings if you're as committed to bowling as you are to being thrifty. That's when early birds get to bowl for just $1 per game. There's no happy hour at Interstate, but the bar is open, the taps are pouring and your mornings are bound to be jolly. (6049 N Interstate Avenue; 503-285-9881)
AMF Pro 300 Lanes: Knock down some pins alongside long black-haired, headbanging bowlers on Tuesdays, when Portland's metal bowling league takes to the lanes at AMF Pro 300. Sundays "Buttermilk Biscuits"-blazoned bowling shirts, part of the gay and lesbian bowling league, are a common sight in this traditionally divey bowling alley with a full bar. (3031 SE Powell Blvd; 503-234-0237)
Punch Bowl Social: On the third floor rotunda of Pioneer Place Mall, Punch Bowl Social pairs all matters gaming with all matters drinking. While the cocktail list is as long as the lineup of games, you go for the punch – big bowls of liquor, special syrups and tea concoctions that hit every strong-weak-sweet-sour-spice note. After paying per hour to bowl, sit down at the bar with a Burnside and Broadway or an Ole Uppercut. (340 SW Morrison Street; 503-334-0360)
Tags:
Beer
,
Cocktails
,
Pool Tables
,
Shuffleboard
,
Sports
Recent Articles

Feedback
How are we doing? Tell us what you like or don't like and how we can improve. We would love to hear your thoughts!