6 Must-Visit Hidden Bars in Portland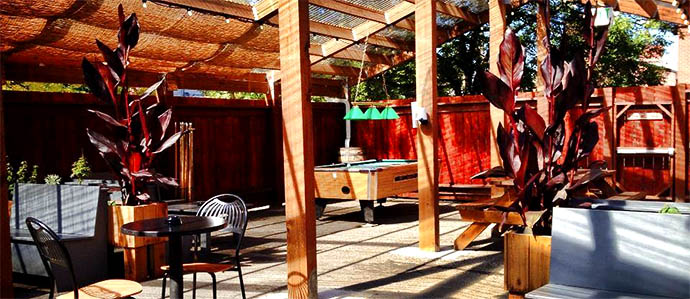 We know how cherished and highly regarded neighborhood dives and speakeasies can become — when Portlandia filmed at The Nest on Alberta, cries of disgust from regulars could be heard all over Northeast Portland — but we also know how truly friendly Portland establishments can be. Check out this list of out a must-visit dives and speakeasies around town — but don't be surprised if someone questions whether or not you've been there before.
When you need a dark dive in inner Portland with plenty of Keno, seek the solution in Hollywood. Bar hopping in Hollywood is like showing up to the Goodwill Bins and discovering someone has already carefully curated a bin full of vintage decanters and wall art, plus it's all non-ironic and somehow not saturated in an unidentifiable fluid. Here are a few to start with — there are many more waiting to be discovered.
Blackwell's Grub/Steak Grill: You haven't truly experienced Blackwell's, located across the street from the landmark Hollywood theater, until you've ordered a meat loaf muffin from the seat of your wheelie office chair. Make your way down the hallway lined with old photographs of patrons from the '70s before entering the women's restroom, which doubles as a museum/botanical garden of silk flowers. If Blackwell's is good enough for Michael Jordan, it's good enough for the rest of us (look for his photo back by the pool tables). Talk to any of the bartenders and they'll go on for quite some time about the trove of talented and famous jazz performers to walk through its doors (1815 NE 41st Ave.; 503-288-5164).
Pal's Shanty: The black building and tinted windows of this Sandy Boulevard spot don't have the dark, seedy interior one might expect from the penumbra-suggesting exterior. Gorgeous old hardwood floors and late '80s dining chairs give this brighter-than-expected seafood-dining hall a warm neighborhood feel. If it's not a family-friendly clam fest night for you, try any of the cocktails such as the Peg Leg to get the debauchery started early (4630 NE Sandy Blvd.; 503-288-9732).
Houndog's Bar and Grill: In the industrial area of SE Holgate Street and Milwaukie Avenue, you'll find Houndog's: calm by morning with no sign of the previous nights' ruckus (other than a lone, broken Bud Light bottle on the patio). Saturday mornings bring old men in white Fruit of the Loom sweatshirts, collectively stewing about life over cups of coffee (4463 SE Milwaukie Ave.; 503-232-3547).
On the speakeasy tip, present-day versions exist in a completely different realm than Prohibition-era bars. Without getting too up tight about definition, Portland's speakeasies are a place to unwind and "secretly" sip on a Moscow Mule, Rainier or other libations. Here are a few of our favorites.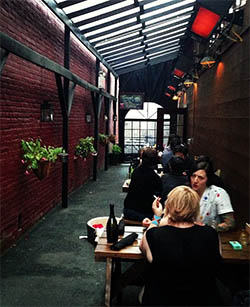 Harlem: Look for Koi Fusion's taco window (previously it sold crepes) on pedestrian-only Ankeny Street. Walk through a short hall (past the refrigerator) into the small but booming Harlem. Let the DJ, Red Bull and model vibes carry you through the night (220 SW Ankeny St.; 971-333-1220).
Paymaster Lounge: Don't blink or you'll miss this hidden Northwest District bar with a large patio. The sign for the building's previous tenant, Paymaster Company, at least now matches the name of the business, since the space is no longer called Balls the Cat's Moonshine Lounge. We're not sure if it's the killer happy hour, the patrons, the old beer signs or the urinating cat logo but something about this place makes it difficult to remember which side of the river we're on (1020 NW 17th Ave.; 503-943-2780).
Circa 33: This Belmont Street bar not only celebrates the year prohibition was repealed with Moscow Mules and Negroni Sbagliatos, it has a secret bar located behind a revolving bookcase wall. Discover which book will allow you access to the secret bar and you will be rewarded with your own dark, (semi-) private drinking spot with an additional bartender posted up to keep the drinks flowing (3348 Se Belmont St.; 503-477-7682).
Recent Articles

Feedback
How are we doing? Tell us what you like or don't like and how we can improve. We would love to hear your thoughts!