5 New Portland Bars and Restaurants for Fall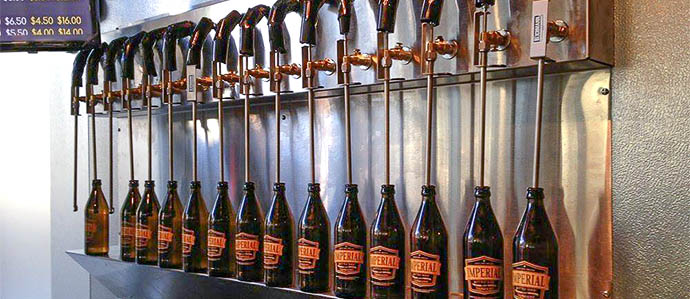 Keeping up with the thriving bar and restaurant scene in Portland can be tough — on both the brain and the wallet. This fall, keep up with the new businesses by tuning into what some of the city's more famous purveyors are creating (for some, it's their third venture), but don't forget about the new kids on the block, either. Check out five recent or upcoming openings worth getting excited about.
Imperial Bottle Shop & Taproom: Fresh-faced and ready to sling bottles, the new Division Street taproom and bottle shop is just the airy fall retreat we've been looking for. There are more than 16 taps available at any given time, in addition to shelved and refrigerated bottles. Want to try one of the bottle shop's shelved vareties? No worries, there's an "instant" bottle chiller that will have your pick nice and frosty in about five minutes (3090 SE Division St.; 971-302-6899).
Expatriate: Naomi Pomeroy and Kyle Webster's new cocktail bar at NE 30th and Killingsworth opened in July but still makes our list for fall hangouts. Every detail here has been mulled over; from the salvaged Chinese restaurant décor to the records spun, down to the very last bottle of Rouge Vermouth (5424 NE 30th Ave.; 503-805-3750).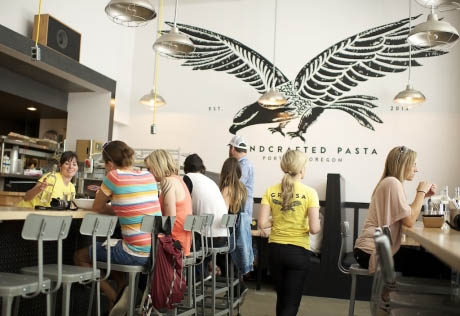 La Taq: Fans of Rodney Muirhead's barbecue joint Podnah's Pit and its weekly Tex-Mex nights have anticipated the opening of La Taq, the "Mex-Tex" spot slated to open up this month next door to Podnah's. Welcome fall in with La Taq's green chile mac 'n' cheese and hold on tight to those memories of summer by pairing it with a margarita (1625 NE Killingsworth St., A).
Biloxi Deli Lounge: The frontman of Alberta Street's Alleyway bar now has another bar-child to look after — he's splitting time between Alberta Street and Mississippi Avenue now that Biloxi Deli Lounge has opened. Venture down Mississippi for Cajun-inspired eats and fancier drinks than you ordered at Alleyway (3746 N. Mississippi Ave.; 503-477-7079).
Grassa: Portlanders have been squawking about Grassa (brought to us by Rick Gencarelli of Lardo) since its opening in June, and with reason. The handcrafted pasta and complementary cocktail and wine lists ensure the chatter won't stop anytime soon (1205 SW Washington St.; 503-241-1133).
Recent Articles

Feedback
How are we doing? Tell us what you like or don't like and how we can improve. We would love to hear your thoughts!