Cool Down: 12 Portland Bars With Great Air Conditioning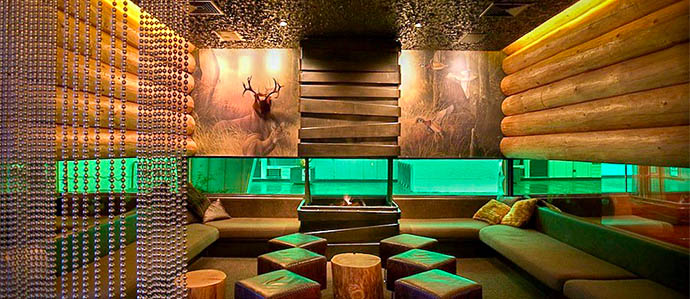 Although the season only shows itself for two months out of the year in Portland, when summer beckons with its UV rays and sweltering pavement, we feel it — and if we're not at the river, we want to escape it. These bars will keep you cool and refreshed, as more sweltering Portland days will undoubtedly spring up before September. Your favorite cooldown spot not included? Let us know what it is on Facebook or Twitter.
Alberta St. Pub: What once existed as a dark pub has now been physically opened up and reestablished as a pub venue with a revamped menu (1036 NE Alberta St.; 503-284-7665).
The Alibi Tiki Lounge: Open daily from 11 AM–2 AM, with karaoke that starts at 9 PM, cool down surrounded by tiki décor (4024 N Interstate Ave.; 503-287-5335).
Cheerful Tortoise: Located on the PSU campus, it's a favorite of college students and alumni. Drink to the flickering lights of over 46 televisions, (1939 SW 6th Ave.; 503-224-3377).
Claudia's Sports Pub and Grill: Serving Portland since 1958, this SE Hawthorne bar has everything from captain's chairs at the bar to live poker tournaments in the room adjacent to the bar (3006 SE Hawthrone Blvd.; 503-233-7243).
Clyde's Prime Rib: It's here in the Hollywood district where "casual elegance and classic style come together" in the form of vintage red booths, chandeliers and prime rib carved tableside (5474 NE Sandy Blvd.; 503-281-9200).
Doug Fir Lounge: Located just East of the downtown business core, young 20-somethings gather here to see live bands perform with top-notch sound equipment, and to be seen. (830 East Burnside St.; 503-231-9663).
Driftwood Room: Hand-crafted cocktails and swanky surroundings make this lounge located in the Hotel deluxe, the perfect spot for date night (729 SW 15th Ave.; 503-222-2171).
East Burn: Serving residents of Buckman, and imbibers from all around Portland, this gatropub has a patio with swings and skee ball too (1800 E Burnside St.; 503-236-2876).
Florida Room: This North Portland dive bar every bit as gaudy as one might expect from Florida-themed bar. The patrons are young, and the drinks are strong (435 N Killingsworth Sreet; 503- 287-5658).
Holocene: Located in inner SE, this nightclub and events space has a killer happy hour menu and even deadlier dance nights (1001 SE Morrison St.; 503-239-7639).
Rialto: Giant tables, huge projection screens and televisions make this downtown pool hall a go-to for groups of friends and sports fans (529 S.W. 4th Ave..; 503-228-7605).
Tanker Bar: Southeast Hawthrone has its fair share of bars, but at Tanker the specials are cheap and the Trail Blazers are always on (4825 SE Hawthorne; 503-445-4635).
Recent Articles

Feedback
How are we doing? Tell us what you like or don't like and how we can improve. We would love to hear your thoughts!