Hillsboro Hops Beer: BridgePort Long Ball Ale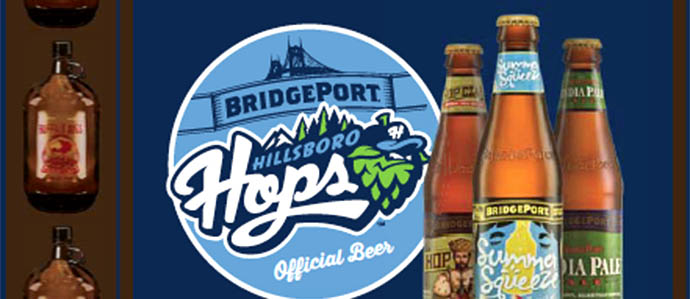 When the new Short Season A baseball team announced it was coming to the Portland suburb of Hillsboro, there was a modicum of excitement. Who needs an MLB team when we've got MLS and even MLU teams? However, when the hardball team from Hillsboro announced they were going to be called the Hops, well now, stand back. (Though confoundingly, the hop cone team mascot's name is Barley...)

Stepping up to the plate to sponsor the Hillsboro Hops and create an exclusive beer is Oregon's longest running craft brewery, BridgePort. Long Ball Ale was brewed to honor beer's MVP ingredient as well as the sports team named after it.

The beer is a light-bodied, summery golden ale (it rings in at 5% ABV), but it does not demur on bold character. After all, what would an exclusive beer for the Hops be without a bunch of the team's namesake? The beer features Cascade, Sterling and Meridian hops. The primary flavor component of each — grapefruit peel, fresh-cut lawn clippings and lemongrass, respectively — play around in a finished product that's a home run. When it comes to tasty refreshment, you can enjoy Long Ball from the first pitch through the seventh nning stretch (beer sales at the ballpark are cut off before the eighth inning).

The Hillsboro Hops play at Hillsboro Ballpark (capacity 4,500) at 4460 NW 229th Avenue, Hillsboro. Home games run through the end of August and tickets range from $7–$16. Long Ball Ale is available at the stadium for $6 per 16-oz. pour or $7 for a 20-oz. draw.
Recent Articles

Feedback
How are we doing? Tell us what you like or don't like and how we can improve. We would love to hear your thoughts!