Portland Bubbles Week, May 6-12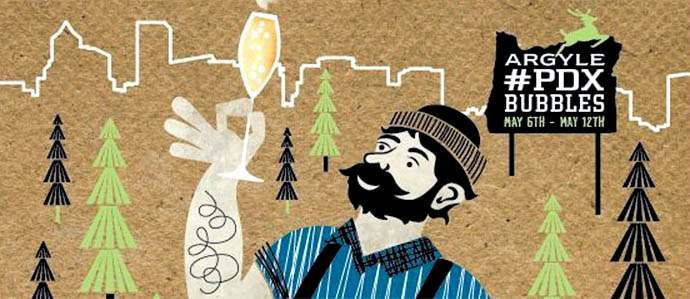 Oregon may be known for Pinot Noir, but the fun doesn't stop there. All this week, Argyle Winery would like to show you that Pacific NW wineries have a bubbly fun side. Portland Bubbles Week events all over town will feature tastings, saberings, and parties that will make you realize that sparkling wine is a great everyday treat for Portland summers. Free your bubbles from stuffy parties and weddings and check out these Portland Bubbles Week events. Even if you can't make it out to any of these tastings or events you can still join the fun by trying Salt & Straw's Argyle Brut sorbet at any locaiton.
Monday, May 6
Tastings:
Higgins Restaurant, 6:30–7:30 PM
Pix Patisserie, 5:30–7 PM
Tuesday, May 7
Tastings:
Zupan's on Belmont, 4–7 PM
Bent Brick Restaurant, 6:30–7:30 PM
Events:
Taste of the Nation, 6:30–9 PM
Argyle Winery will join some of Portland's best restaurants, brewers, and distillers for the annual fund raiser to help end childhood hunger in the United States. Join Portland's food and drink scene in supporting a great cause by grabbing a ticket on their site or stopping by the Crystal Ballroom on the night of the event -- all you have to do is eat and drink to help kids all over Oregon and the United States do the same.
Wednesday, May 8
Tastings:
Park Kitchen Restaurant, 6:30–7:30 PM
Events:
Portland Center Stage
Set the mood to enjoy a fun look at our hometown through the eyes of a writer thinking of moving from LA to Portland with a pre-performance Argyle tasting before "The People's Republic of Portland" at Portland Center Stage. The show starts at 7:30 PM but make sure to click here to grab your tickets now because there are only a few seats left.
Thursday, May 9
Tastings:
The Allison, 6:30–7:30 PM
Friday, May 10
Tastings:
Zupan's Stores on Burnside and Macadam, 4–7 PM
Bluehour, special Argyle and caviar flight available for dinner service

Events:
Camerata Lounge, 6:30–7:30 PM
Celebrate Portland Opera's opening night of Verdi's Falstaff with an intermission tasting of Argyle. As it turns out, Argyle's Bubbles Week pairs with Portland Opera's "Larger than Life" series perfectly so make sure to grab your tickets here.
Yelp's Denim Derby and Jorts Jamboree, 8–10 PM
Who says you need to be fancy to enjoy a good sparkling wine? Rock your best Canadian Tuxedo or hipster jorts with a big cup of Argyle bubbles and see how fun bubbles can be when you free it from pretense. RSVP to get into the Bossanova Ballroom for this party over on Yelp.
Saturday, May 11
Tastings:
Bluehour, special Argyle and caviar flight available for dinner service
Events:
Cartopia, 6–8 PM
Portland food carts don't always serve adult beverages but then they do you know you're in for a good time. Head down to SE Hawthorne and SE 12th to join one of the best food cart pods in town for a bubbles pairing with everything from poutine to crepes.
Portland Center Stage
Celebrate 25 years of theater in Portland at their Silver Masquerade Ball. This year, Portland Center Stage invites you to party in style with a black tie ball complete with ornate masks like the legendary Carnevale di Venezia in Italy. There isn't much space left to enjoy cocktails, dinner, live entertainment and, of course, Argyle sparkling wine so make sure to visit their site for more information.
Yelp's Poppin' Tabs - The Thrift Shop Party, 8–10 PM
If you prefer oddly smelling faux fur to jorts then make sure to hit up Yelp's Macklemore themed night of popping tags and bottles of bubbles. RSVP for the party on the Portland Yelp but remember that you can only choose one of these parties so maybe do an inventory of your closet first.
Sunday, May 12
Tastings:
Raven & Rose, 11 AM–12:30 PM
The Benson Hotel, 10 AM–1 PM
Treat you mother to an uplifting bubbly brunch at either of these two westside favorites.
Events:
Camerata Lounge, 6:30–7:30 PM
Honor Mom and say good by to Argyle Bubbles Week in style by taking in the second performance of the Portland Opera's production of Verdi's Falstaff.
Event Date: 05/06,05/07,05/08,05/09,05/10,05/11,05/12
Event Time: All Day
Location: All over town!
Price: PAYG
Type: Parties,Wine
Website: pdxbubbles.com

Tags:
Parties
,
Wine
Recent Articles

Feedback
How are we doing? Tell us what you like or don't like and how we can improve. We would love to hear your thoughts!