Best Bars With Jukeboxes in Portland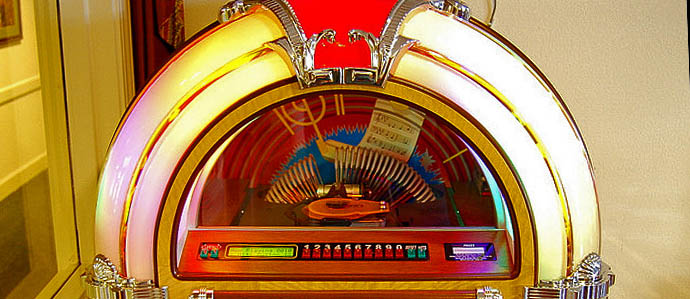 Although many bars these days rely on soulless machines to pick the music, you can still find a good old-fashioned jukebox when you're out in Portland. Whether you want to share your favorite song with the world or you just want to annoy a room of people with that song you love to hate, a good jukebox can transform any bar into a party for just a handful of quarters.
Side Street Tavern: Jukeboxes may be an older way to enjoy music, but this SE spot keeps the tracks in the box fresh, so you can enjoy your favorite songs instead of your parents' favorite songs. Unlike most bars, the machine isn't tucked away in a corner, so pick out some songs and take advantage of the open space that just begs for an impromptu dance party (828 SE 34th; 503-236-7999).
Roadside Attraction: Save your quarters for pinball and enjoy free selections from a jukebox as eclectic as this SE bar's decorations. The box features everything from classic jazz to experimental rock, so stay inside to hear your music and take advantage of the pool table — it's free, too (1000 SE 12th Ave.; 503-233-0743).
Basement Pub: Located just beside Roadside Attraction, this neighborhood dive's jukebox covers everything you may have missed next door. Like at any respectable dive bar, this jukebox focuses on rock music, but with a decidedly Portland twist, so you end up browsing Hank Williams and Neutral Milk Hotel at the same time (1028 SE 12th Ave.; 503-231-6068).
Slow Bar: While this bar may be most famous for their burger, the first thing that greets you here is a slap in the face from bands like Slayer or Black Flag. Punk and metal rule this industrial dive and regulars wouldn't have it any other way (533 SE Grand Ave.; 503-230-7767).
Billy Ray's Tavern: All of the George Washington's belong in the jukebox at Billy Ray's Dive located on MLK Blvd. The cash-only bar inside a two-story red house has one of the most well-rounded jukeboxes in the city with music by acts like Sharon Jones and the Dap-Kings, Pure Country Gold, and Reigning Sound (2216 NE Martin Luther King Blvd; 503-287-7254) 1957.
Turn!, Turn!, Turn!: The Jukebox band from the "Shining Time Station" TV show would play a song from inside the jukebox for a nickel but owner Scott Derr will play records for you from inside his N. Killingsworth Street music lounge for free. If you buy a beer maybe he might even take a request? While there's no actual jukebox you can plug with coins, Derr likes to think of the whole space that encompasses his beer hall/record store/hangout as one giant jukebox (8 NE Killingsworth St.; 503-284-6019).
World Famous Kenton Club: If you go to the Kenton Club for shows you probably haven't noticed the jukebox but if you're at The World Famous club to play pool, surely you've poked a few quarters in the box. The Kenton Club also has a video DJ too, who will play songs for you with the accompanying video projected on the wall (2025 N. Kilpatrick St.; 503-285-3718).
Tags:
Music
Recent Articles

Feedback
How are we doing? Tell us what you like or don't like and how we can improve. We would love to hear your thoughts!