Best Bars That Show Movies and Movie Theaters With Bars in Portland
Enjoy a pint and a picture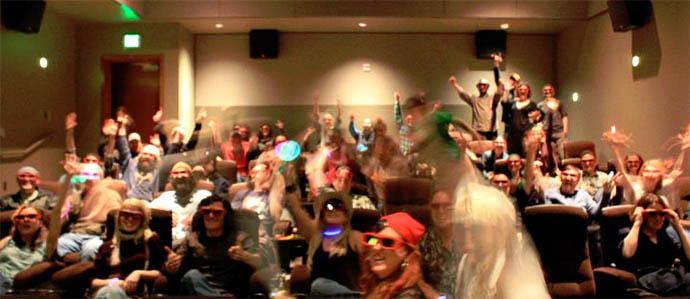 Forget the absurd ticket prices at traditional movie theaters and grab a pint and a picture at one of these local "view pubs" instead. Whether you're a movie buff or just trying to get out of the rain, here are the best places to see new or classic movies while enjoying Portland's finest beers.

Funhouse Lounge: It's no surprise that a bar run by a bunch of theatre folks not only screens movies, but makes them interactive as well. Sing-alongs to movies like Moulin Rouge are par for the course here, so make sure to practice in the shower before you show up. Though the movies vary from fun (Nightmare Before Christmas, for example) to intense (Requiem for a Dream), the drink specials are a constant. Showings generally start around 8 PM, check the Lounge calendar for the next movie night (2432 SE 11th Ave.; 503-841-6734).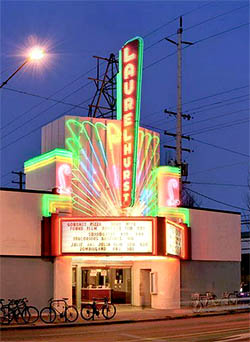 Living Room Theater: Big theaters will charge you an arm and a leg to sit in a sticky chair and watch a general release movie completely sober. Instead, go here to watch independent films for as little as $5 some nights. You can even have have tapas-style dinner served at your seat, along with a selection of beer, wine, and cocktails. Cozy rooms and drink service directly to your chair? This is how every movie should be viewed (341 SE 10th Ave.; 971-222-2010).

Laurelhurst Theater: If you missed that hot movie you were excited to check out, just stop by this second-run theater - you'll have another chance to see a it on the big screen for just $4. While the screens may be smaller, the beer flows more freely in affordably priced pitchers from some of the best breweries in town. You can also catch classic older movies shown according to monthly themes like cult classics, best of the '60s or best of the '70s (2735 E. Burnside St.; 503-232-5511).

The Lovecraft: As if horror fans needed another reason to visit, every Monday is a double- or triple-feature movie night. Of course the bar designed as an homage to this famous author has a sense of humor, so expect darkly funny themes such as a Nicholas Cage night. Make an evening on the first Monday of the month for trivia after the first show (421 SE Grand; 971-270-7760).

Hollywood Theater: Most theaters don't let you a) drink beer or b) mock the movie showing on the screen, but Hollywood Theater does! Grab a pint or a glass of wine at the bar to help fuel your creative insults at "HECKLEVISION!" Like The Lovecraft, this spot has also set its sights on internet punching bag Nicholas Cage, with a showing of Con Air on February 23. Get your jabs ready to text to the theater's MuVChat system so your fellow moviegoers can appreciate your wit as it's displayed on the screen alongside the movie (4122 NE Sandy Blvd.; 503-281-4215).
Recent Articles

Feedback
How are we doing? Tell us what you like or don't like and how we can improve. We would love to hear your thoughts!