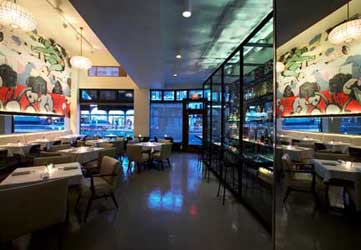 Address
214 S.W. Broadway
(Broadway and Pine)
503-241-3393
saucebox.com
Neighborhood
Downtown
About
Drinkpoint.com
From Facebook:
Established in 1995, Saucebox has maintained its reputation in the city as the place for the finest in pan-asian and pacific island cuisine with its insider vibe and unique presence. Unforgettable dishes and innovative cocktails.
Events
06/21 - Sake Fest Returns to the Oregon Convention Center
Time: 6:30-9 PM
Experience the finest Japanese and US sake brands at the only event of its kind in the Northwest.
Monday
Happy Hour (4:30 pm - 6:30 pm):
$4 beers, $8 22 oz. select beer, $5 select cocktails, and $6 house wines and sakes; $2-6 snacks
Drinkpoint.com
Tuesday
Happy Hour (4:30 pm - 6:30 pm):
$4 beers, $8 22 oz. select beer, $5 select cocktails, and $6 house wines and sakes; $2-6 snacks
Drinkpoint.com
Wednesday
Happy Hour (4:30 pm - 6:30 pm):
$4 beers, $8 22 oz. select beer, $5 select cocktails, and $6 house wines and sakes; $2-6 snacks
Drinkpoint.com
Thursday
Happy Hour (4:30 pm - 6:30 pm):
$4 beers, $8 22 oz. select beer, $5 select cocktails, and $6 house wines and sakes; $2-6 snacks
Drinkpoint.com
Friday
Happy Hour (4:30 pm - 6:30 pm):
$4 beers, $8 22 oz. select beer, $5 select cocktails, and $6 house wines and sakes; $2-6 snacks
Drinkpoint.com
Saturday
Happy Hour (5:00 pm - 6:30 pm):
$4 beers, $8 22 oz. select beer, $5 select cocktails, and $6 house wines and sakes; $2-6 snacks
Drinkpoint.com
Beers on Tap
Five beers on tap
Beer in Bottles & Cans
Ten bottled beers
Speciality drinks available
Download full cocktail menu here