A Whiskey Tasting With Rachel Barrie
The woman knows her spirits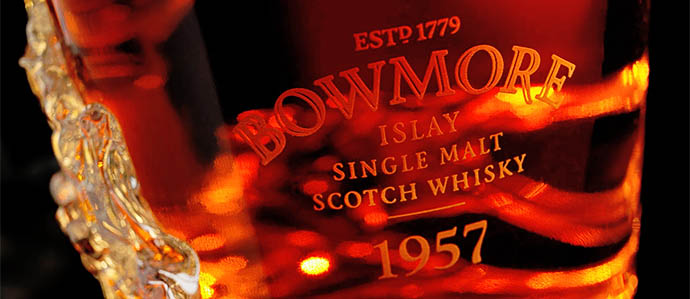 Rachel Barrie, the first woman master whisky blender, is as interesting to meet as she is to drink whisky with. Barrie brings a language and philosophy to the world of whisky that has never existed before. Her creative way of articulating the nuances of the whisky combined with scent descriptions inspired by her love of perfumes provides both an imagery and sensory experience for the drinker. She waxes poetically about flavor profile, wans about locations of the whisky production, elegantly describes where and when she imagines you should drink each one and — what I found most interesting — what you should eat with each whisky.


Glen Garioch 12 Year

We started off with Glen Garioch, which hails from Barrie's hometown. Glen Garioch has 30 days more sunlight than the rest of Scotland, the most fertile soil, the most livestock and the most bees. Aptly, the name means "aplenty." This whisky is rich, spicy and reminds Barrie of her grandmother's kitchen. She compares the complexity of this whisky to multigrain bread. Which is why, I suppose, it pairs so nicely with cheese. Cabot clothbound cheddar, to be specific, and honey or maple syrup. It's spicy nature mellows to a creamy, full whisky when you add a little bit of water, so taking it neat or with rocks depends on your preference. But Barrie wants you to feel the tingle of the spices on the roof of your mouth.

Bowmore 15 Year

Our second whisky was Bowmore, from the Islay. Barrie described a small western town, dotted with fishing boats and the possibility of experiencing four seasons in a single day. Bowmore was the first distillery to distill from peat, a soil full of decomposition and moss that reveals a spectrum of salt, smoke and umami. It is aged 12 years in bourbon and 3 years in sherry casks, and then is married, which explains why it is so balanced. Barrie suggests putting a piece of dark chocolate in your mouth, letting it melt a little, then taking a sip of 15-year Bowmore to make a smokey, chocolate liquor treat on your tongue. She believes this is whisky best drunk at a bonfire, on the beach, just as "darkness descends and stars start to come out." She says this with a Scottish accent. Are you in love yet? Did I mention she collects vintage motorcycles?

Auchentoshan Classic

The last whiskey we tasted was Auchentoshan Classic, from the only distillery that triple distills. The triple distillation in copper stills plus the malted barley gives this whisky a light and elegant flavor with notes of grassiness that Barrie compares to Sauvignon Blanc. She suggested pairing the spirit with a flaky fish. This revelation forced me to ask her if Auchentoshan was the answer to the much-debated question of what to pair with asparagus. She agreed it is. Huzzah! Give me some grilled halibut, asparagus and glass of Auchentoshan, anytime.

So as the weather turns cold and the idea of staying in sounds appealing, or the next time you're trying to dream up your next "How About We" date, grab these three whiskys, a nice cheddar with perhaps some honeycomb, a few different kinds of dark chocolate and steam some asparagus with a nice flaky, white fish, and have yourself a whisky tasting to remember.
Recent Articles
Memorial Day Drinks: 5 Fun and Easy Summer Pitcher Cocktails
Beer Review: Two Brothers Brewing Cane and Ebel
Sign Up for Early Word on Brad Pitt and Angelina Jolie's Next Wine Release
Feedback
How are we doing? Tell us what you like or don't like and how we can improve. We would love to hear your thoughts!